Pattern Lock/Unlock your Computer
(
Eusing Maze Lock
)
Pattern Lock / Unlock Software for PC.
Free PC Pattern locker Download
.
File Name: Eusing Maze Lock
Software Size: 800 KB
System: PC
1. How to use the default unlock pattern
Unlock your computer by the following steps:
1. Mouse down at the start point (Do not release the mouse button)
2. Mouse move to draw the unlock pattern
3. Mouse up at the end point to confirm
2. Hotkey
a. Win + A : for quick locking computer
b. Win + C : for quick opening configuration window
c. Escape : for canceling incorrect unlock pattern
d. Enter : for showing/hiding unlock pattern window
3. How to lock your computer
a. Run Eusing Maze Lock application firstly. Then you can use hotkey (Win + A)
to lock computer quickly.
b. Or left-click the Eusing Maze Lock icon in the system tray to lock.
c. Or right-click Eusing Maze Lock icon in the system tray. Then select "Lock
Computer" item in popup menu.
4. How to reset the unlock pattern
5. I forgot my unlock pattern
a. If you did not enable auto-lock at Windows startup. You can reset to the default
pattern by reinstalling Eusing Maze Lock.
b. You can press F8 between system boot and enter the safe mode. Then reinstall
the software to reset the default unlock pattern.
6. My unlock pattern window is disappeared. How to get it back?
a. You can double-click on the background image to get it back.
b. Or press 'Enter' key once. Unlock pattern window will be appeared. Remind that
press 'Enter' key only once. If you pressed twice, unlock pattern window will be
disappeared again.
7. What is the unlock mode?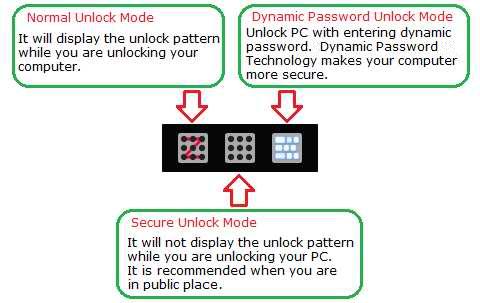 Eusing Maze Lock has three unlock modes.